I've been asked by friends, my family, and complete strangers how I travel so cheap. If you travel yourself, I'm sure you can guess their reaction when the word "hostel" is part of my reply. First their expression completely changes. Then comes the question.
If I had a quarter for every time someone replied with, "But haven't you seen the movie, Hostel!?" I wouldn't have to stay in hostels at all, I could upgrade to a four star hotel. And the truth? No. I haven't seen the movie.
If someone told me that they had went volcano boarding (yes, it's a thing) in Hawaii or Nicaragua, would my initial reaction be, "But haven't you seen the movie, Volcano!?"
Or if they said they went surfing in Byron Bay or Pipeline, would I counter with, "But haven't you seen the movie, Soul Surfer!?"
The answer is no.
I digress.
Back to my point!
Hostels are nothing to be afraid of! That is the number one reason I'm given by people who don't see them as an acceptable accommodation choice. Hostels are less expensive than hotels, and focus more on the shared experience between a group of people. Although private rooms are usually available, at a higher cost, the main idea of hostelling is sharing a dorm room. There are all female dorms, all males dorms, as well as mixed dorms and you can book whichever you feel more comfortable in. There are common areas, hang out spots, and many times bars as well. Some hostels offer free breakfast. It's an extremely social environment, typically offering group outings, bar crawls, event nights, day tours and the like. In reality hostels are a safe, practical, and fun option while out traveling. Not only is it cheaper, but the like-minded people you meet frequently become travel buddies and life-long pals.
There are several ways to keep yourself safe, mainly using common sense and your God given intuition, as you would in any situation life throws your way. There are many products out there that are available for you to purchase that are fool-proof ways to keep your things safe as well. *Check out PacSafe TravelSafe here!
I've stayed in hundreds of hostels over the years, and I've never had any of my things stolen (knock on wood!). Sure, it happens. People steal things. But as far as reasons one should fear staying in a hostel? Well … I've never been attacked or assaulted, on the contrary I've had some of my best times in hostels!
Hostels provide a common ground where people with similar interests can share stories, experiences, advice and tips. Taking advantage of hostels is a networking tool, especially if you're a solo traveler. There are hostels in over 140 countries, so the next time you're amping up for an adventure and are seeking accommodation, give it a go!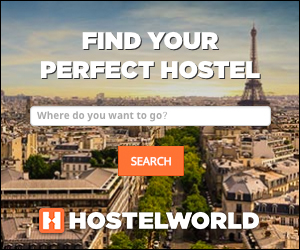 Want to find out a few easy ways to start saving for a trip? Read my, "How to save money for travel – A backpackers perspective" here!